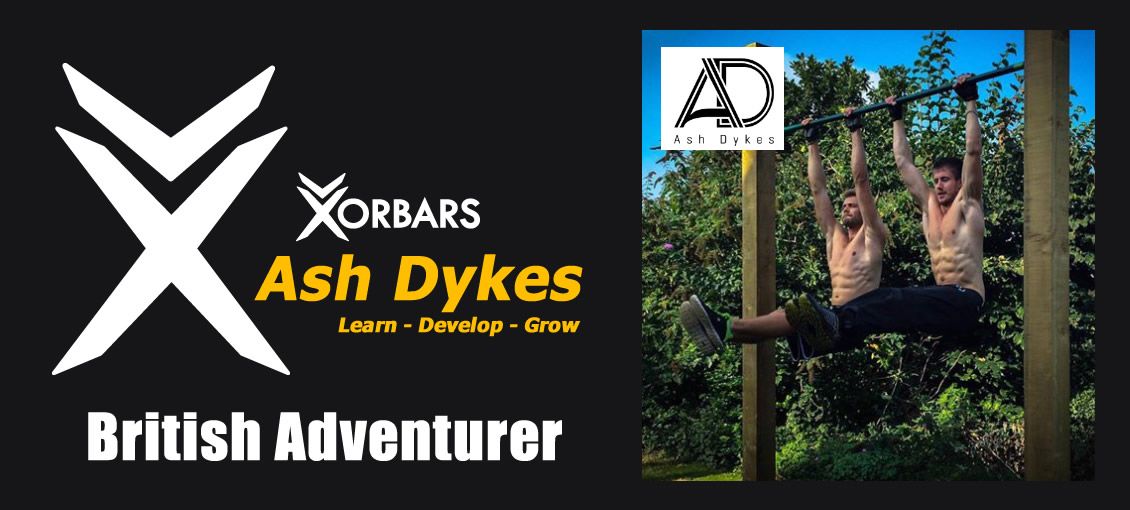 Xorbars are pleased to announce that the British Adventurer Ash Dykes has been getting the most out of his recently added Xorbar Outdoor Pull Up Bar.
Ash is an extremely accomplished adventurer and we hope that through Xorbars he can take his training to another level and look forward to hearing about his next epic adventure.

More About Ash Dykes
British Adventurer, Extreme Athlete, 2X World First Record Holder, (FHM:- "One Of The Worlds Most Fearless Outdoors Men"). (Wales Online:- "7th coolest person in Wales"). Speaker, Muay Thai Fighter, Master Scuba Diver.
Ash has been invited to 10 Downing Street on two occasions after his feats, was shown social support by Bear Grylls, Sir Ranulph Fiennes, Duncan Bannatyne and won the 2015 UK Adventurer of the Year Award and the 2016 Welsh Adventurer of the Year Award.
He was featured on The Times, Forbes, The Guardian, Mail Online, BBC World News, ITV, Arise TV, Discovery Channel, Channel 5 etc.
In 2014 – Ash became the first person ever to walk across Mongolia solo & unsupported, over the Altai Mountains, Gobi Desert & Mongolian Steppe, 1,500 miles in 78 days whilst pulling 120kg in a wheeled trailer carrying provisions needed to survive.
In 2016 – Ash became the first person ever to traverse Madagascar's length, through it's interior taking on eight of the highest mountains on the fourth largest island in the world, 1,600 miles in 155 days. Tackling Desert, Savannah, Tropical dry forest Jungle, Mountains and facing many mishaps along the way.
From the age of 19, Ash boarded a plane & left to explore what was out there, this lead him to undertake the following exploits, to name a few: –
• Cycling Cambodia & the length of Vietnam (1130 miles – 15 days)
• Trekking the Himalayas in North India
• Cycling a part of Australia (700 miles – 13 days)
• Escaping the outback's of Australia after a nasty break down in the wild

• He learnt how to survive in the jungle with a Burmese Hill Tribe
• Cycled the length of Britain for charity (985 miles – 7days)
• Walked 200 miles across Wales in the dead of winter
• Trekked alone through the Alps during winter & was just missed by a landslide
• Worked as a scuba diving instructor for two years in Thailand
• Trained & competed against the locals, in the local martial art or Muay Thai (Thai Kickboxing
To find out more about ash please visit: