[vc_row full_width="" parallax="" parallax_image=""][vc_column width="1/1″][vc_column_text]
Pick your own colour, lengths and shapes!
Custom pull up bar sizes and colours are available on request. Extra charges and 3-4 week manufacturing time applies.
We can even add on different grips and bar shapes depending on your requirements.
Please NOTE: Producing one off pull up bars can be expensive.
The image shown here is for three pull up bars custom finished in yellow.
Specifications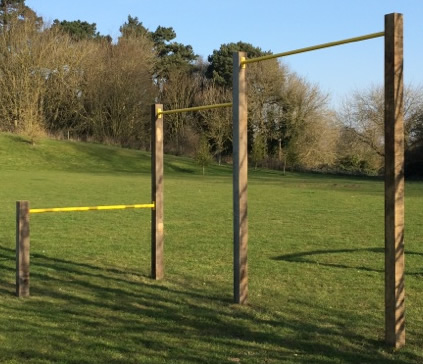 High quality heavy duty steel
Powder coating weather resistant finish.
Includes 4 x coach screws per bar.
Max Weight 120kg
ANY COLOUR
Longer Pull Up Bar Lengths
Whilst we can make longer bars, we will NOT have strength tested them. Please also note that anything over 6.5ft will incur high postage charges.
This service is most suitable for:
If you would like custom bars then we recommend that you only use this service if you are planning on having over 4 pull up bars of varying lengths.
Full Installation Service
We do offer a full design and installation service. For more details please contact us.
[/vc_column_text][/vc_column][/vc_row]