[vc_row full_width="" parallax="" parallax_image=""][vc_column width="1/1″][vc_column_text]
This is where the fun begins; the XOR heavy duty bars offer a great way to provide an anchor point for a variety of body weight fitness accessories.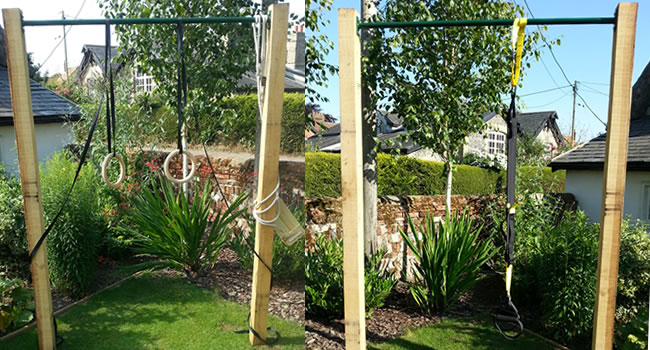 TRX Band
One of the most popular pieces of fitness equipment at the moment is the TRX body weight band which provides a fantastic way of developing all round body weight strength, fitness and weight loss but does require a strong anchor point. Well the XOR bar provides just that, and the length of the bar even means that two people can use the TRX system at the same time.
Check out the TRX video below.
Olympic Rings
This fantastic piece of equipment offers a similar upper body workout to the TRX but also allows you to get creative and really work your muscles in a fun an exciting way.
Check out the Olympic Ring video below.
Boxing
Want a great way to get rid of stress and get a fantastic cardio workout at the same time, then get yourself a punch bag, hang it from the XOR bar and away you go. The XOR bar is long enough for you to use a punch bag and something like the TRX to create a great fat busting circuit.
Found another use for the XOR bar? Please get in touch and let us know.
[/vc_column_text][/vc_column][/vc_row]